Agriculture and Sports Shade (people and animals) Highly Reflective Shade Fabric
Reflect A Mesh has maximum radiation reflection on both sides, at night and day. and it substantially reduces heat build-up in greenhouses, skylights, patios, porches, tents, vehicles etc. Reflectivity maximizes light diffusion underneath. Has a cooling effect as well as a high tech appearance. Ideal where you are seeking reduced temperatures and air pass through.
Standard density for animals and people 70%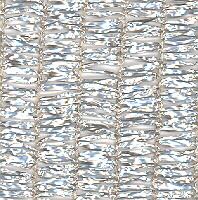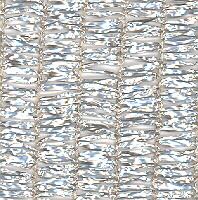 Our shade cloth comes standard with sewn black binding edges (a durable seatbelt-like material) and grommets every foot.
70% density will block out 70% of light and UV rays. Our quality shade fabrics are manufactured featuring tough, lock-stitch construction
.

Cool behind the fabric!

Reflect A Mesh is a high quality, reflective, metalized, HDPE, knitted screen material . No rotting.
Standard Fabricated Sizes
6 feet high by 8 feet long ----- $ 49.95
6 feet high by 10 feet long ----- $ 59.95
6 feet high by 12 feet long ----- $ 79.95
===============================================
Custom sizes available in 7, 14, and 21 feet wide. These can be adjusted? Length can long?
With pieces 100 square feet or larger, we advise providing support cables underneath to prevent sagging. Lightweight cable can be run from corner to corner, providing an X for the shade cloth to rest on. For pieces over 400 square feet, lightweight cables running end to end every 4 feet is advised.
Call to order, clarifying questions, help with best way to handle your situation, etc.
810-724-8615 ask for Terry